INNOKREA Included in Techreviewer's Top 100 iOS Development Companies for 2023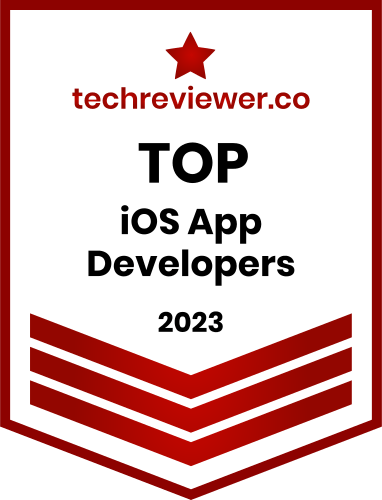 INNOKREA, a leading innovator in the realm of technology solutions, has been recognized as one of the Top 100 iOS App Development Companies of 2023 by Techreviewer.co, a reputable technology review platform.
This acknowledgment serves as a testament to INNOKREA's commitment to deliver top-tier, innovative, and custom iOS development solutions to clients worldwide. The company prides itself on its ability to offer unparalleled service quality, which is reflected in their client testimonials and portfolio.
Techreviewer annually compiles and publishes lists of the top development companies in various categories, relying on a broad set of qualitative and quantitative metrics, including company experience, market presence, client feedback, and overall performance in their respective domain.
Making it to Techreviewer's prestigious list of Top 100 iOS Development Companies demonstrates INNOKREA's constant strive to surpass expectations and deliver highly sophisticated, bespoke solutions to its clients. It is worth noting that this isn't the first time INNOKREA has been featured on a prominent list by Techreviewer, underpinning their consistent quality and customer service.
INNOKREA, since its inception, has championed the creation of robust, scalable, and innovative iOS applications that add business value and provide a seamless user experience. As a trusted partner for businesses around the globe, they have continued to push the boundaries of what is possible in iOS development.
In the rapidly evolving world of technology, recognition from an authoritative source like Techreviewer carries immense weight. INNOKREA's inclusion in the Top 100 list cements their place as industry leaders and recognizes the dedication and skill they bring to every project.
The entire INNOKREA team is deeply humbled by this recognition and sees it as a driving force to continue improving and delivering the highest quality solutions. The team is already gearing up for what lies ahead, with their eyes firmly set on being recognized as the top iOS Development Company in the years to come.
About INNOKREA
INNOKREA is a top-tier technology solutions provider, specializing (among others) in custom iOS development. With a team of highly skilled professionals and a customer-first approach, they deliver innovative and bespoke solutions to businesses across the globe. Headquartered in San Francisco, INNOKREA is committed to delivering unparalleled service quality and pushing the boundaries of technological advancements.