INNOKREA: Comprehensive analysis, management and implementation of IT projects
Process digitization services for tech companies
Since 2017, we have been challenging difficult IT implementations, supporting clients throughout the process. 
We are delighted to have been recognized in Deloitte's prestigious ranking as one of the fastest growing technology company in Central Europe.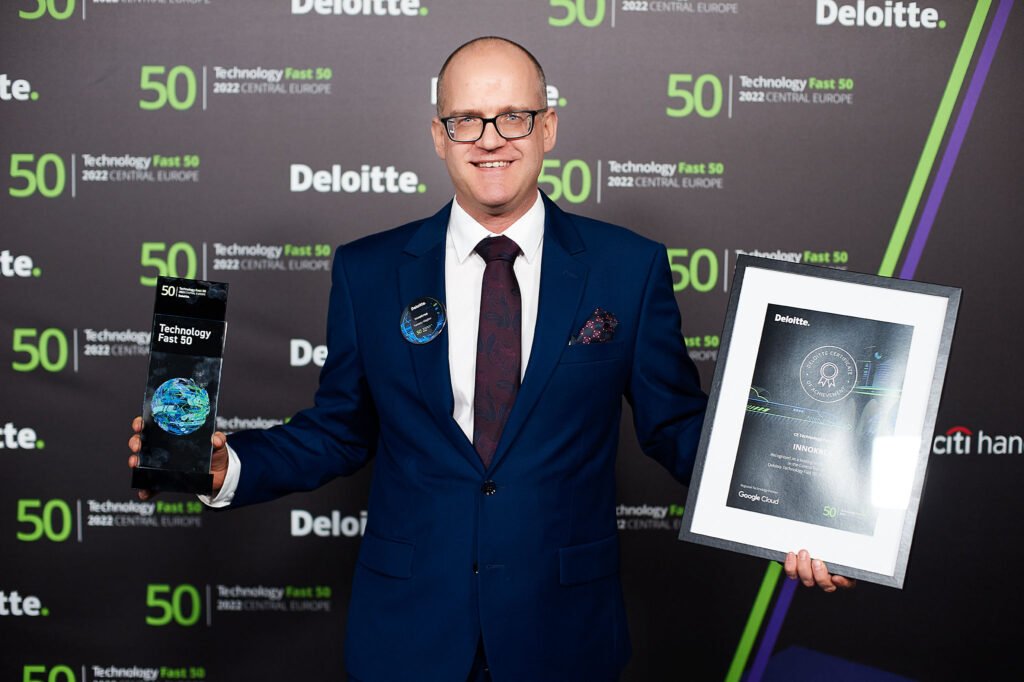 Stages of cooperation with us
Online conversation, during which we try to answer the question which processes in the company can be optimized and how.
By collecting accurate data from the company, we try to answer the question which processes can be digitized and what will be the return on investment?
Implementation of digital processes
We take responsibility for the implementation of the entire IT project, we carry out a large part of it ourselves, if there is such a need, we coordinate the work of partners.
Why is it worth trusting us?
We challenge difficult IT implementations
When the implementation of an IT project requires things that are not yet available on the market, we work until the implementation profitability is achieved.
We guarantee that we will do what we agreed
Even if serious problems arise during the duration of the project, we will keep our word and achieve the project goals in accordance with the contract.
The most important thing for us is the profitability of an IT project
We are a partner for companies that work with us. We share our experience to reduce investment costs and maximize profits.
Dedicated CRM system for a development company
A mobile application for managing service requests
What do our satisfied customers say about us?
"INNOKREA is a group of flexible and competent programmers. They not only have very good technology know-how, but also perfectly "feel" how business works. We recommend INNOKREA as a partner for difficult and complex IT projects."
"Cooperation with INNOKREA is a pure pleasure. The INNOKREA company has implemented the auction system for us in a very fast, professional and reliable manner. Komputronik employees could easily use this tool without any training. We recommend cooperation with INNOKREA!"
"I value the agility and ability of INNOKREA to adapt to our requirements. This team is able to deliver complex IT solutions of good quality very quickly and on time."
"INNOKREA's IT specialists are real specialists. They are able to efficiently program every business requirement, perfectly address the customer's attention and quickly provide improved solutions. We recommend cooperation with INNOKREA!"
"We highly recommend INNOKREA services! Cooperation in the project, consisting in building a web application, was professional and without reservations. The solution met all our expectations and we will certainly use INNOKREA's services in the future."
"The INNOKREA team showed flexibility and determination in the effective implementation of a very complex project of preparing a new CRM system for Invest Komfort. We are satisfied with the cooperation and recommend INNOKREA for the implementation of IT projects."
"Developed by INNOKREA sp.z o.o. the auction system is distinguished by its practicality and refined functionality, allowing, among others, intuitive and easy-to-use shopping and easy auctioning of new items. Clients of FEMAX Sp. z o.o. Sp.K. responded positively to the new tool. Implementation and support services provided by INNOKREA sp.z o.o. are made with above-average quality, in a professional, careful and reliable manner. The deadlines for responding to submitted applications are short."
"We value cooperation with INNOKREA. The company perfectly understands business needs, which it translates into effective IT implementations, bringing tangible benefits for enterprises."
"The application streamlined the process of communication and submitting notifications. Sescom appreciated our product for the fact that at the time of implementation it distinguished itself by adjusting the functionality to the needs and requirements of the company."
"Nothing is impossible for the INNOKREA Team. They are happy to undertake difficult and innovative projects. Particularly valuable is the consistency with which INNOKREA strived to create a "tailor-made" solution that perfectly matched our business strategy."
Our platform as a proof of trust
Specialized tool 
for in-company sales
Services
Products
About us
Office
ul. Małachowskiego 5
80-262 Gdansk
Main Address
ul. Leborska 3b
80-386 Gdansk